Ukraine
More than 1,500,000 children in Ukraine experience direct impacts of armed conflict. Since the beginning of the conflict in eastern Ukraine, in 2014, over 750 education facilities have become damaged and many more experienced disruptions to education. Schools has been often used for military purposes, changing them from safe spaces to targets of the waging war, meaning schoolchildren and teachers are frequently targeted by attacks. The Ukraine Education Cluster estimates that over 1,200,000 children and teachers in eastern Ukraine are impacted by the hostilities and are in need of humanitarian assistance.
The impact of conflict on children is devastating and eternal. They are vulnerable to serious physical and mental injury and death, with particular risk from explosive weapons.
According to the 2020 Humanitarian Needs Overview, there are 600,000 children in need of protection in Ukraine. Children are exposed to risks such as shelling, mines, explosive remnants of war, forms of violence (including physical, emotional and sexual violence), neglect, psychological distress and lack of documentation. Children are particularly vulnerable as their protective environment is weakened by family separation, displacement and constant shelling. This can result in extreme stress, aggressive behaviour and social isolation.
Since 2014, we have responded to the conflict emergency by providing lifesaving interventions across eastern Ukraine. We support the basic needs of the most vulnerable families, proving food, shelter, coal, multi-purpose cash grants, clothing and medicine.
We provide children and their caregivers affected by the conflict with Community Centres and mobile outreach teams where they can receive psychosocial support. We run programmes to develop positive coping strategies, life-skills and resilience. We also conduct Mine Risk Education sessions in schools and nursery to raise awareness on the dangers of mines and explosive remnants of war.
We have established Case Management Units and delivered case management for child protection services in order to provide individual support to the most vulnerable and most at risk children.
We have supported children to access education in conflict-affected areas by distributing learning and teaching kits, providing psychosocial support for children in schools and building teachers' capacity to provide psychosocial support and conflict sensitive education. We have also rehabilitated schools and classrooms that have been damaged during the conflict.
In 2019 we launched a project focused on supporting children with disabilities and promoting inclusiveness in the east of Ukraine.
Since 2017 we piloted and scaled up the 'Schools as Zones of Peace' approach in 21 schools to address conflict-related safety issues in schools. 'Schools as Zones of Peace' aims to secure safe learning environments in conflict and post-conflict settings and build local and national level engagement to protect education. This work is complimented by child-led advocacy and advocacy at the national level for endorsement and  implementation of the Safe Schools Declaration by the Government of Ukraine.
In November 2019, Ukraine became the 100th country in world which endorsed the Safe Schools Declaration. Save the Children will remain committed to support the Government of Ukraine with implementation  of the Declaration which is aimed at protecting education in armed conflict.
SEE WHERE WE WORK ACROSS THE COUNTRY
NATIONAL OFFICE ADDRESS
59 Tsentralna street
Sloviansk city
Ukraine
NEWS & STORIES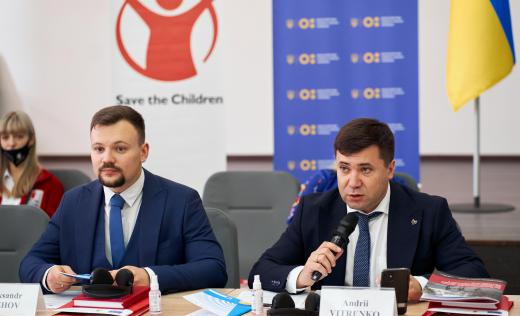 19 NOVEMBER 2021 – NEWS
SIGNING THE MEMORANDUM OF UNDERSTANDING BETWEEN THE MINISTRY OF EDUCATION AND SCIENCE AND SAVE THE CHILDREN – ANOTHER STEP TOWARDS THE REALIZATION OF CHILDREN'S RIGHTS IN UKRAINE