The Impact on Children
Since 1953, we've been working for children's rights in Gaza and the West Bank. Following an escalation in violence between Palestinian armed groups and Israeli forces in Israel and Gaza, our teams and their families are bracing for what comes next.
THE IMPACT ON CHILDREN
Children are always the most vulnerable in every conflict.
The number of casualties – far too many of them children – continues to rise. Kidnapping, killing and maiming. Destroying homes, hospitals and other infrastructure essential to the livelihood of children. These are all grave violations of children's rights with consequences for their long-term wellbeing. They are terrified, have been forced from their homes, and are cut off from an education.
OUR EMERGENCY FUND
Our Emergency Fund is a special reserve of money that allows us to prepare for and respond quickly to help children survive emergencies, wherever and whenever they happen. Your donation will go towards helping children impacted by the Gaza-Israel crisis as well as other humanitarian emergencies around the world.
CHILDREN ARE CAUGHT UP IN THE CONFLICT
Almost 1 million children live in Gaza.
Many like Salma* and Mohammad* have already lived through three conflicts. Years of military occupation by Israel have taken their toll on children in Gaza and across the West Bank, including East Jerusalem.
Many are suffering from:
poor mental health including depression and anxiety




reduced access to education




losing their family and friends




life-changing injuries 
Today, the existing humanitarian situation for families in Gaza and the West Bank is already dire. Approximately 2.45 million people need humanitarian assistance and 1.2 million of them are children.
OUR WORK IN THE OCCUPIED PALESTINIAN TERRITORY
We've been able to stand with children for years because of your support. Since the 2014 Gaza war, your support has helped us reach almost 50,000 people – including 35,000 children.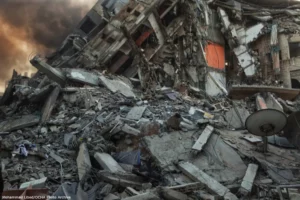 When violence escalated in 2021, you raised over £190,000 for children – helping them to stay safe, healthy and learning.
Thanks to the support of people like you, we've been able to:
provide thousands of families in Gaza with a steady income, through cash to work interventions
installed water tanks and LED-lights in households in Gaza, so families have improved access to light and water during power cuts
run early education programmes for children at risk of dropping out of school, as well as 24 safe spaces for children to play
Destruction and rubble after airstrikes in Gaza, May 2021. Photos courtesy of United Nations Office for the Coordination of
Humanitarian Affairs (OCHA)
BASSEM'S STORY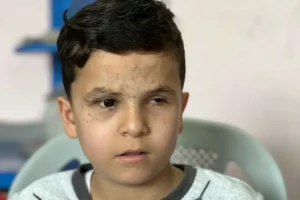 In 2021, Bassem* from Gaza suffered severe injuries when he picked up an explosive metal object while playing outside. The incident resulted in burns, blindness, and the amputation of three fingers. Save the Children has been assisting Bassem* by providing psychosocial support, educational materials, and clothing.
It's crucial to take action today. Please donate now and help children like 8-year-old Bassem*. Donate to our Emergency Fund today
Randa Ghazy/ Save the Children
STANDING UP FOR CHILDREN'S RIGHTS
Children's safety is in danger every day. Consistent breaches of their most basic rights lead to hundreds of children being detained or having their homes destroyed.
We stand up for children's rights and work to protect children from violence and abuse. In the West Bank, we've helped over 900 children rehabilitate after being arrested or detained. Together with partners we also support families who homes have been demolished.
Read our reports 'Defenceless' and 'Hope Under The Rubble' to learn more about the impact of Israeli military actions on Palestinian children.
Page last updated 13th October 2023